Pen Plotters Developed For DIGICON S.A.
1984 - 1988
From 1984 to 1988 I worked for DIGICON S.A. developing a complete line of digital pen plotters. These were the first pen plotters designed and manufactured in Brazil and had an enourmous market success. These were the firsts output devices used for CAD system drawings and were widely used by many industries including automotive, petroleum, furniture, arquitecture, and universities. These products used parts made from many materials including aluminum, stainless steel, and engineering plastics and I gained experience in working with these material. We also developed several dozen plastic injection molds where I had the opportunity to learn all about the injection molding process and plastic material selection. In the product development process I was responsible for all mechanical aspects of the product and worked together with a team of electronic engineers and programers.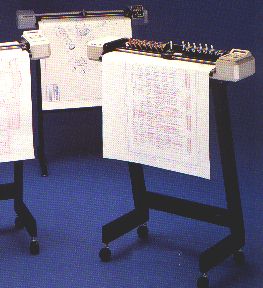 These free standing pen plotters were launched in 1984 for large paper sizes (A1, A2) and had single pen and multiple pen models. These plotters became a standard for engineering drawings in Brazil.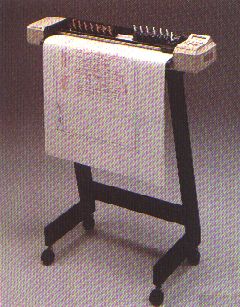 This is the multipen plotter also known as the "2001" model because of the distinctive modern look with coaster wheels and an inclined stand. A digital display allowed instant programing of plotting parameters such as pen speed and paper size. The pen change mechanisn required a fine motor drive mechanism with position sensors for the pen rack.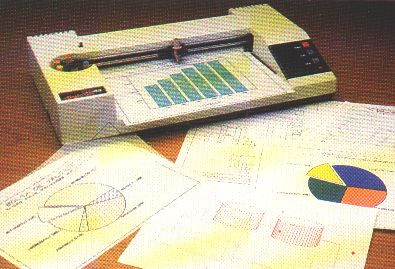 The plotter pictured above was a small table top model for office use making coloured graphs and diagrams on letter size paper (A4/A3). This model was built almost entirely from plastic injection molded parts to lower costs and speed up assembly. High tech materials employed included electricaly conductive plastics and low friction self lubricating plastics for wear surfaces.
June 2003
(photos scanned from product publicity catalogs)

© Alan Joughin 2003